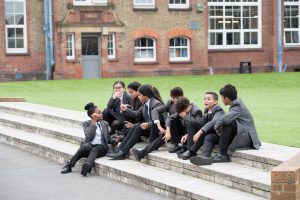 The school has to implement a very precise set of requirements in all public exams. 
These rules are governed by the Joint Council for Qualifications (JCQ) and every centre conducting exams is required to follow them. Failure to adhere to these regulations could result in the centre losing its licence, so it is vital that all students know, understand and follows the rules, which they will be informed of before and during each assessment period.
Grade Ladders and Assessments 
All of our students will be given a grade 9-1 by their teacher during the assessment cycles (twice for Y7-Y10 and three times for Y11).
We have used Ofqual's guidance on grade descriptors and the national curriculum to devise our Grade Ladders. Our Grade Ladders are designed to provide an indication of the likely level of performance at grades 9-1. Our Long Term Plans and assessments are directly linked to our Grade Ladders. The Grade Ladders help teachers to differentiate and plan their lessons.
All departments will be using the Grade Ladders as guidance when designing in-class assessments/tests. This enables teachers to correctly pitch the test so that students are challenged according to their ability. Your child can use the Grade Ladders to find out what they need to do in order to achieve a higher assessment grade. study.
If you would like to view copies of individual grade ladders please click on the relevant links below.
English Language and Literature Grade Descriptors( Ladders)
Religious Education Grade Ladder
Design and Technology Grade Ladder